This post was originally published on this site
by Wolf Richter, Wolf Street: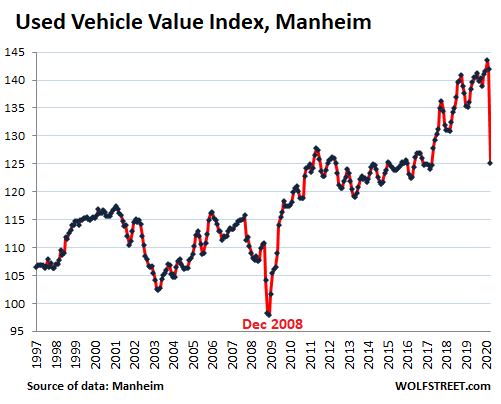 No one has ever seen a mess like this before.
The used-vehicle wholesale market is normally very liquid. Millions of vehicles a year are run through these auction houses around the US and establish day-to-day pricing. The sellers are leasing companies, rental car companies, lenders with repossessed vehicles, and the like. These auctions are where dealers buy part of their used-vehicle retail inventory. The wholesale market is a crucial component in the vast and complex apparatus of the US auto industry that sells 17 million new vehicles and 40 million used vehicles in a good year. But sales at these auctions have collapsed.
In response to Covid-19, auction houses have now switched all auctions to simulcast, where buyers and sellers participate online. So now, after everyone got used to dealing with simulcast auctions, transactions have begun to tick up from catastrophically low levels to near-catastrophically low levels.
It sounded like this, from J.D. Power Valuation Services today: "Wholesale auction sales reached nearly 28,000 units the week ending April 19, a 19% lift over the prior week's 23,500 units."
In the good times through the week ended March 15, auction volume ran in the range from 109,000 to 114,000 vehicles a week. But then volume collapsed by 84% to 18,000 vehicles by the week ending April 5.
It is from this catastrophically low level of 18,000 units that sales via simulcast have started to rise to the still catastrophically low 28,000 units in the week ended April 19. Auction volume from mid-March through April 19 has plunged by 72% to just 160,000 units, down from 579,000 units in the same period last year.
In the chart from the report by J.D. Power Valuation Services, the light blue is actual sales; the dark blue is actual sales through February and then the old projections – now obviated by events – for the rest of the year:
Wholesale prices of vehicles up to eight years old dropped 17% from the week ended March 15 through the week ended April 19, according to JD Power, and so far, there have only been relentless downticks – without upticks in sight (chart by J.D. Power Valuation Services):
Looking at this from the auction house's point of view, Manheim, the largest auto auction house in the US and a unit of Cox Automotive, reported that price declines "accelerated over the last four weeks, with the first two weeks of April seeing a decline of 4.8% in the Three-Year-Old Index." And it added:
It should be noted that, given the unprecedented downturn in sales and market disruption that the industry is experiencing because of the COVID-19 pandemic, the decline we have observed thus far in MMR [Manheim Market Report] values at the vehicle level and at all aggregation levels does not fully reflect the declines occurring in the relatively limited number of sales transactions taking place. Adjusting MMR for retention, which is the average difference in price relative to current MMR, results in a decline of 11.9% for 3-year-old since the end of March.
"Rental risk" vehicles have seen steeper price declines at auctions, Manheim reported. These are vehicles that rental car companies bought from automakers and that they have to sell later at whatever price the market might bear – as opposed to vehicles that they buy with repurchase guarantees from the automaker, where the automaker takes the risk associated with the resale value.
The average price for rental risk units sold at auction in the first 15 days of April plunged 17.1% year-over-year, and 18.5% from March.