This post was originally published on this site
Click On Picture To See Larger PictureBusiness are starting to come back online, Farms are now coming back, the meat shortage will be taken care of in about 10 days. The WH is looking to move tax day from July to Dec now, to help the struggling economy. Trump knows, he always knew that once the economy opens up, it was going to do better than ever. The [DS]/MSM and those elected Gov's are showing their true colors, the people are waking up, they are realizing that the people they elected are trying to take away their rights, we are watching the great awakening. The DOJ dropped the case on Flynn, Van Grack withdraws from the case, the Mueller investigation never had evidence, it was all a lie. Pain is coming and the [DS] players are panicking.
Check Out The X22 Report Spotlight YouTube Channel X22Report Spotlight
Please check Newzsentinel.com for the latest news on the economic collapse. The Sentinel Alerts are updated throughout the day.
---
Current News – 05.07.2020
Watch The X22 Report On Video
---
Economy
Agriculture Secretary Sonny Perdue and Iowa Gov. Kim Reynolds said farmers' plants should be back to 100% capacity 'in a week to 10 days'
"We've turned a corner," said Agriculture Secretary Sonny Purdue said during the meeting.
Purdue and Reynolds said Wednesday at the White House that plants should be back to 100% capacity in a week to 10 days. Reynolds said that only one Iowa meatpacking plant is shut, in Waterloo.
Perdue said meat shortages should end within 10 days as meat plants come back on line.
Source: justthenews.com
One week after Treasury Secretary Steven Mnuchin said that dead people aren't eligible for stimulus check after it emerged that an unknown number of recently deceased Americans had received a $1200 tax credit as part of the coronavirus helicopter money package,
Source: zerohedge.com
The White House is currently examining different ways to boost the economy without Congress,
President Trump delayed the tax filing day from April 15 to July 15. Now it could be pushed to December 15.
Source: zerohedge.com
What can the Fed actually do? Just print money, right? That's all they can do. They can artificially suppress interest rates so that we can take on more debt, and they can create money. But does that help the economy? No. The Fed has no tools to support the economy. You don't support the economy by printing money. Now, the Fed could try to support the bubble. It can try to prevent the bubble from deflating or have it deflate more slowly. But that's actually hurting the real economy."
Source: zerohedge.com
This is a big moment in America's history: opening up our Country again and rebuilding the greatest economy anywhere in the world 🇺🇸 pic.twitter.com/RnCun2HxN6

— The White House (@WhiteHouse) May 7, 2020
---
Political/Rights
Obama Sends Private Letter to National Archives Claiming 'Confidentiality' To Not Release Biden-Ukraine Docs
F

ormer President Barack Obama has inserted himself into the Russia, Ukraine scandal . a letter was sent from the office of former President Barack Obama to the National Archives and Records Administration (NARA), which manages presidential records.
Why would Obama, four years after leaving office, suddenly get involved? The letter to the National Archives was privately sent in March
Obama's letter to the NARA is a response to Republican Senators Chuck Grassley and Ron Johnson having requested the Obama administration records on Ukraine-related meetings, placed on November 21, 2019. Obama's letter claims the senators' inquiry is an effort "to shift the blame for Russian interference in the 2016 election to Ukraine."
What exactly is Obama concerned with in regard to the "confidentiality interests that all presidents have sought to protect?"
Source: thegreggjarrett.com
Does the redacted section of the 8/2/17 Mueller scope memo relate to President Trump?

Recall McCabe's admission that he opened an FBI investigation into Trump "as an agent of Russia" in May 2017…

ht @JohnWHuber and @TheLastRefuge2 and @almostjingo pic.twitter.com/xl0rSHteyX

— Techno Fog (@Techno_Fog) May 7, 2020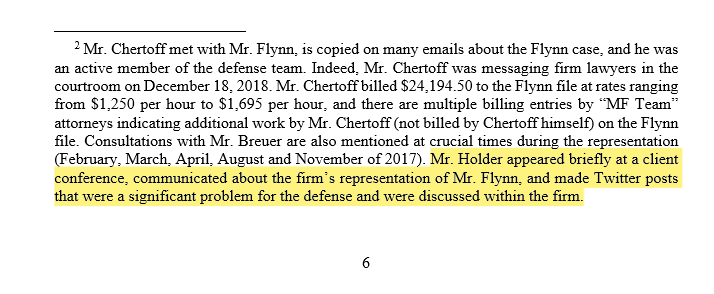 Agreed. Release mine too. Seems we have nothing to hide so I wonder who Adam Schiff is protecting?

Seems the others who testified and haven't been calling for transparency are Obama officials. 🤔 https://t.co/Fj1yIyMv4B

— Donald Trump Jr. (@DonaldJTrumpJr) May 7, 2020
Senator Lindsey Graham: "There Was NO Legal Justification for Mueller's Appointment…The Entire Mueller Investigation Was Illegitimate
William Evanina, a former FBI special agent, has led the National Counterintelligence and Security Center since 2014 and in February 2018 was nominated by President Trump to be the first Senate-confirmed director of the center. But since June of that year, Iowa Sen. Chuck Grassley has blocked the nomination as a form of protest against Department of Justice leadership and the Office of the Director of National Intelligence for not providing Congress documents related to the government's investigation into Russian election interference and Trump's presidential campaign.
That impasse ended on Monday with Grassley withdrawing his objection, citing "recent actions" by Attorney General William Barr and acting Director of National Intelligence Richard Grenell to "finally respond to my very longstanding oversight requests."
Source: washingtonexaminer.com
---
War
The Venezuelan military captured two U.S. citizens who took part in a failed attempt over the weekend to entered the country by sea and Socialist Tyrant President Nicolas Maduro.
Secretary of the State Mike Pompeo denied on Wednesday that the United State was involved in the so-called "Gedeon Operations." Pompeo added, "If we had been involved, the result would have been different."
Former U.S. special forces soldiers Luke Denman, 34, and Airan Berry, 41, were arrested Monday as part of the foiled attack
The tyrant Maduro says José Alberto Socorro Hérnandez, called "Pepero," admitted he works with the US Druge Enforcement Agency (DEA).
Source: thegatewaypundit.com
---
False Flags
CBS News said it was removing video footage showing a long line of cars waiting in a COVID-19 testing line after undercover video footage showed nurses saying the line was staged.
Source: theepochtimes.com
Throwing Texans in jail whose biz's shut down through no fault of their own is wrong.

I am eliminating jail for violating an order, retroactive to April 2, superseding local orders.

Criminals shouldn't be released to prevent COVID-19 just to put business owners in their place.

— Greg Abbott (@GregAbbott_TX) May 7, 2020
Texas Lt. Gov. Dan Patrick has vowed to pay the fines for a salon owner who was sentenced to seven days in jail for violating the state's stay-at-home order by opening up her business.
Patrick also offered to go on house arrest in exchange for her release.
Source: thegatewaypundit.com
Americans have a right to work and open their businesses. It's the #lockdowns that are #unconstitutional & as @NYGovCuomo is learning, completely ineffective at anything except destruction!https://t.co/HbYzTFeAv3#OPENAMERICANOW #OpenTexasNOW @realDonaldTrump @GovAbbott

— Sidney Powell 🇺🇸⭐⭐⭐ (@SidneyPowell1) May 7, 2020
One of President Trump's personal valets (member of the US Navy) has tested positive for #COVI19. The Whitehouse says that the President and the Vice President have since tested negative for the virus and they remain in great health." – CNN

— Breaking911 (@Breaking911) May 7, 2020
Trump Tests Negative For COVID-19 After 'Valet' Infected
Former CDC official Dr. Cyrus Shahpar recommended that President Donald Trump should quarantine for 14 days following his possible exposure to a coronavirus-positive person Thursday, saying that one negative test does not put him in the clear.
House Republican leader Kevin McCarthy (R-CA) announced the creation of a Republican "China Task Force" to coordinate legislative strategy on all aspects of China while House Speaker Nancy Pelosi (D-CA) continues to investigate President Donald Trump.
McCarthy announced the task force, which will consist of 15 Republicans from 14 separate committees. The House GOP will use the group to mainstream ideas concerning China policy.
---
Q
71. #QAnon Free speech on social media contradicting the [D] Party con is: "Extremely dangerous to our democracy."
Worth remembering.
[note: they all read from a teleprompter – who controls the message?]
Q
40M of taxpayer money spent on conspiracy theories…
A newly declassified memorandum from Rod Rosenstein shows that the former deputy attorney general used bogus claims from discredited Clinton campaign operative Christopher Steele to justify Robert Mueller's investigation of the Trump campaign.
Former Deputy Attorney General Rod Rosenstein's memo authorizing Robert Mueller's anti-Trump investigation was riddled with conspiracy theories lifted straight from the bogus dossier of Christopher Steele, a newly released, less redacted version of the memo shows. The memo, portions of which were declassified on April 30, 2020, specifically targeted former Trump campaign affiliates Carter Page, Paul Manafort, Michael Flynn, George Papadopoulos, and one individual whose identity is redacted.
The Aug. 2, 2017 scope memo, which was provided by the Department of Justice (DOJ) to the Senate Judiciary Committee following requests from Sen. Lindsey Graham, R-S.C., cited Steele dossier collusion conspiracy theories about Manafort and Page.
Rosenstein ordered Mueller to investigate allegations that Page "committed a crime or crimes by colluding with Russian government officials with respect to the Russian government's efforts to interfere with the 2016 election[.]" The same language was used to justify the targeting of Manafort.
Advocating overthrow of Government?
Q
The "scope memo" authorized Mueller to investigate Trump campaign affiliates Carter Page, Paul Manafort, Michael Flynn & George Papadopoulos based on fake information in the Steele dossier.
This video was taken down
[0:00 – 21.45]
Q
There is a reason why Congress did not return to work this week [DC][non_COVID related].
Think [BOOM] drops this week and next [2019, 2020][+1].
[C]oats before [D]eclas [ongoing_now].
Q
Q said Congress is out of session, not due to Covid-19, but because they know bombshells are going to be dropping this week and next week. Dan Coats had to be removed as DNI before Declass could commence. Declass is now underway.
Same video that Q posted, but the other video that was posted had a website on the video, if you type it in the url it brings you to a porn site, so Q reposted it.
Q

!!Hs1Jq13jV6

ID: eab5f8

No.9065630

NEW
EXa_OTX0AEp3bC.jpg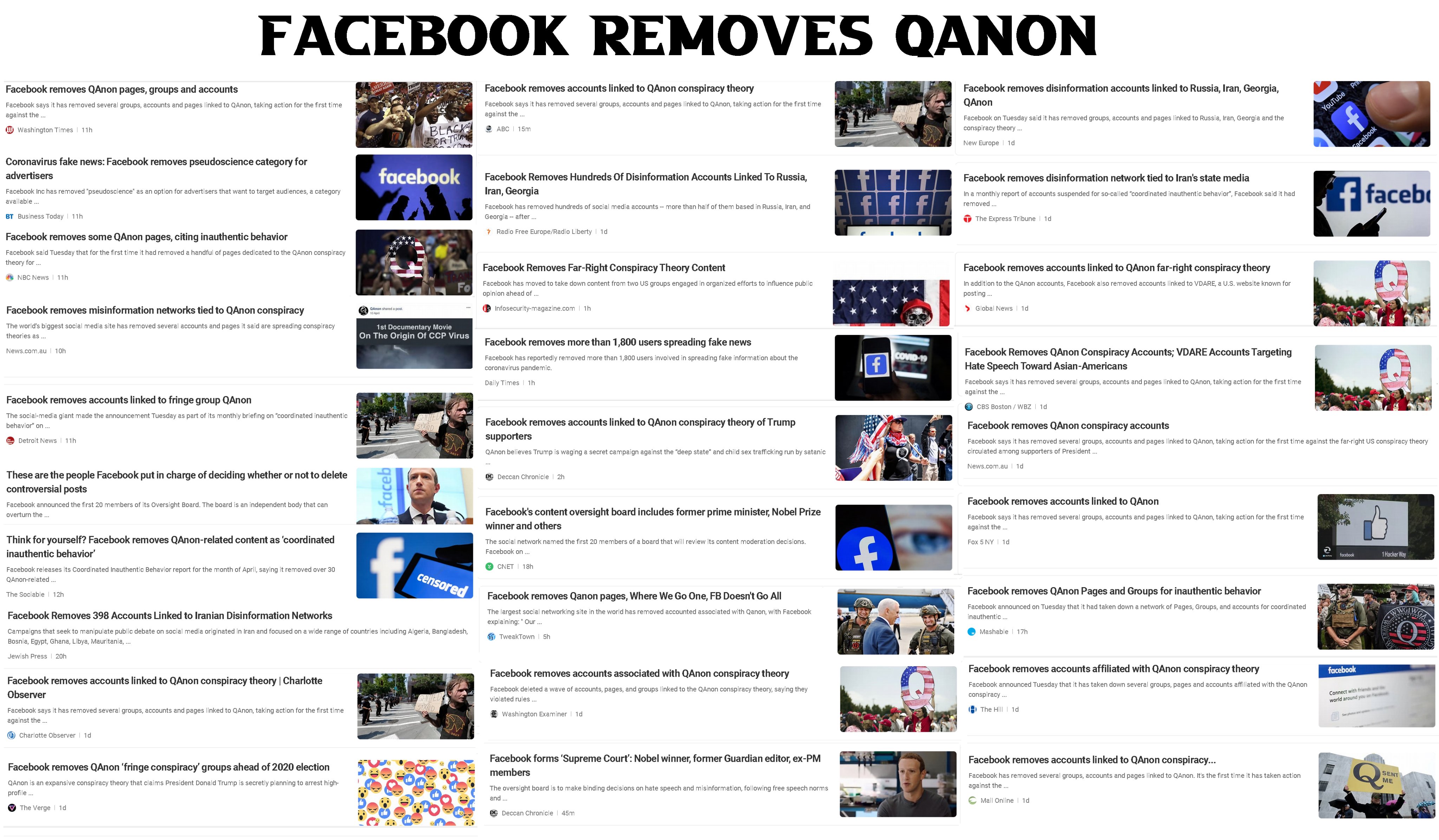 I'm curious why Facebook and IG are only removing #QANON "conspiracy" pages? Why not remove Bigfoot pages? UFO pages? If it's all just silly nonsense why is QANON more silly or harmful than the others? @Facebook@instagram
When do you expend ammunition?
For what purpose?
Prevent public exposure of truth
[slow limit reach]
?
Coordinated media roll-out designed to instill 'fear' into users re: discussing 'Q' re: risk of account termination?
Coordinated media roll-out designed to silence a 'conspiracy' they deem to have significant potential [anti-
[D]]
ramifications re: 2020 P_election?
You have more power and influence than you realize.
Welcome to the Revolution.
Q
Q

!!Hs1Jq13jV6

ID: eab5f8

No.9065749

NEW
Russia Approves Unproven Malaria Drug to Treat Coronavirus
The Russian government has authorized hospitals to treat coronavirus patients with the untested malaria drug hydroxychloroquine, which studies have linked to potentially deadly side effects.

Thursday's decree instructs Russia's national medical cardiology research center to distribute 68,600 packs of hydroxychloroquine donated by a Shanghai pharmaceutical company to hospitals across Russia for free.
Moscow's health department issued a tender in early April to buy 2.6 million rubles ($33,200) worth of hydroxychloroquine.
Russia using HCQ to treat COVID-19?
Source of HCQ: China
China using HCQ to treat COVID-19?
The more you know…
Q
Q

!!Hs1Jq13jV6

ID: edb599

No.9066083

NEW
More of that "larping" the shills must be talking about… ~1 minute [DELTA] Q inb4 @POTUS Only the gazillionth time #QAnon
Calculating 'lag' near impossible.
Watch the news today, tomorrow, next week.
Q
Van Grack, who had been involved in the Flynn investigation from the beginning, did not state a reason for his withdrawal.
A top prosecutor in the special counsel's office, Brandon Van Grack, has withdrawn from the government's prosecution of ex-Trump national security adviser Mike Flynn. pic.twitter.com/P1ayIpkAb1

— Brad Heath (@bradheath) May 7, 2020
FYI, the last time Brandon Van Grack was on a Flynn filing was early Feb 2020. Potentially an indication of exactly when USA Jensen's review hit the jackpot

— Undercover Huber (@JohnWHuber) May 7, 2020
I feel a lawsuit coming, he will sue the media, the fbi, doj for blackmail, hiding exculpatory evidence and for makeing the entire case up
3 examples of past Q posts assuring us Gen. Flynn only took a rubber bullet, and was safe.
BONUS: What is the purpose of a laser pointer?
News unlocks the map
Future proves past

DO YOU BELIEVE IN COINCIDENCE? pic.twitter.com/cOulFOMlOC

— ENoCH (@elenochle) May 7, 2020
The DOJ has lost its way. But, career people: please stay because America needs you. The country is hungry for honest, competent leadership.

— James Comey (@Comey) May 7, 2020
Q

!!Hs1Jq13jV6

ID: db95eb

No.9069125

NEW
EXcSrZDX0A0En2L.png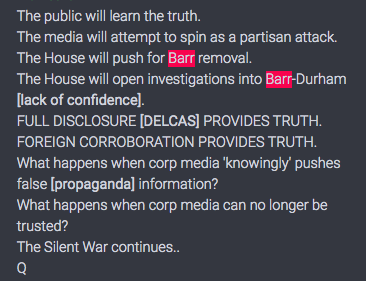 Flynn pled guilty to lying to the FBI about his illicit Russian contacts. His lies do not now become truths. This dismissal does not exonerate him. But it does incriminate Bill Barr. In the worst politicization of the Justice Department in its history.
Keep watching the news.
Q
Pain is coming