Subscribe, Like And Share!
Originally published on Love and Lemons on 2020 07 12 by Jeanine Donofrio https://www.loveandlemons.com/black-bean-burger-recipe/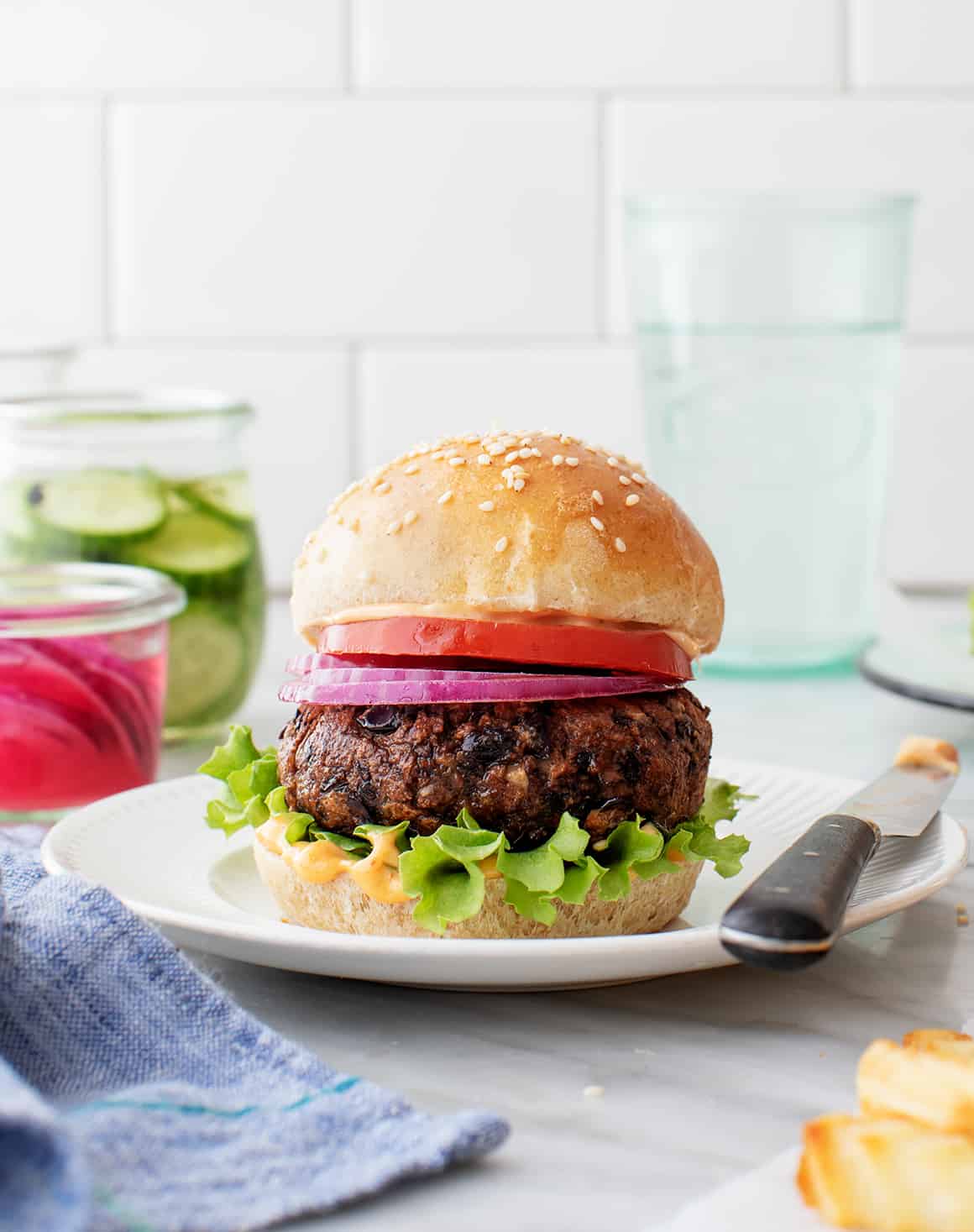 This black bean burger recipe is going to be your new best friend. The hearty patties are charred on the outside, tender in the middle, and packed with bold, smoky flavor. But that's not all. They're also easy to make! You won't need to haul out the food processor or dirty 3 pans to whip them up. Nope – this black bean burger recipe comes together in one bowl in under 30 minutes, cooking time included.
Lately, Jack and I have been cooking the burgers outside on the grill, but they come out just as well in a cast-iron skillet on the stove. Make them for a laid-back summer cookout or for a quick weeknight dinner at any time of year. They're the newest addition to our regular recipe rotation, and once you try them, they'll have a permanent spot in yours, too.
Black Bean Burger Recipe Ingredients
Another great thing about this recipe? It uses basic ingredients! You likely have all of them on hand already:
Black beans, of course! Use canned, or cook your own.
Onion – I grate the onion on the large holes of a box grater before mashing it with the other ingredients. When you grate it, the onion will release a lot of liquid. That's normal! Add the moist onion pulp to the black bean mixture, leaving excess liquid behind on your work surface.
Garlic – Along with the onion, it gives this black bean burger recipe sharp depth of flavor.
Canned chipotles and adobo sauce – They add smoky flavor and a little heat.
Balsamic vinegar and tamari – They make the patties tangy and savory.
Panko bread crumbs – They give the burgers their hearty texture.
An egg – To bind everything together!
And salt and pepper – To make all the flavors pop.
Find the complete recipe with measurements below.
Combine the black beans, onion, garlic, chipotles and adobo sauce, cumin, balsamic, tamari, salt, and pepper in a large bowl.
Use a large fork or potato masher to mash the mixture until it starts to hold together but still has visible chunks of black beans. Fold in the egg, followed by the panko bread crumbs.
Form the mixture into 6 patties, about a heaping 1/3 cup each. Then, cook! You can use a cast-iron skillet or an outdoor grill for this step. Either way, the patties should be well-charred, crisp on the outside, and tender in the middle. Enjoy!
Best Black Bean Burger Recipe Tips
If the black bean mixture is too wet to handle, pop it in the fridge. It firms up nicely after chilling for just 20 minutes!
Or mash it more. The mashed black beans play an important role in making these patties firm and cohesive. If your mixture won't hold together, continue to mash the beans until you're able to form patties.
Can't flip them? Keep cooking. If you're grilling your patties, make sure to cook them for a full 8 minutes on the first side. If they're sticking to the grill, keep cooking! Chances are, they'll be easy to flip in a minute or two, once the first side is nice and charred. I also recommend brushing the patties with olive oil before putting them on the grill to prevent sticking.
Charred burgers are better burgers. This black bean burger recipe comes out best when the patties have a really nice char. If you're cooking them on the grill, look for distinct grill marks and crisp edges. If you cook them in a skillet, each side should be crisp and blackened. For the best results, make sure your skillet is hot when you add the patties, and cook them for 4-5 minutes on each side.
Get ahead. This is a great recipe to make in advance! If you want to cook the burgers right before you eat, mash together the beans and seasonings, fold in the egg and panko, and form the burger patties. Then, transfer the patties to a baking sheet, cover, and refrigerate them for up to a day before cooking. Otherwise, cook the patties in advance and reheat them before serving. Store the cooked patties in an airtight container in the refrigerator for up to 4 days or in the freezer for up to 2 months.
Black Bean Burger Serving Suggestions
Once you've cooked your patties, it's time to eat! I love to serve this homemade black bean burger with chipotle sauce, lettuce, tomato, red onion or pickled red onion, and dill pickles for crunch. Use your favorite burger buns, or make homemade hamburger buns to take your black bean burger over the top.
Round out the meal with mixed grilled vegetables or grilled zucchini, corn on the cob, or a summer salad. Any of these 37 Best Summer Salads would be great, but I especially love these salad recipes with this black bean burger:
And of course, you can't go wrong with fries! My air fryer French fries or sweet potato fries would both be delicious with this chipotle black bean burger. Grilled potatoes would be a great choice too.
More Favorite Veggie Burger and Sandwich Recipes
If you love these homemade black bean burgers, try one of these veggie burger or sandwich recipes next:
Click here to browse more recipes!
The post Easy Black Bean Burger appeared first on Love and Lemons.
Subscribe, Like And Share!