Subscribe, Like And Share!
Originally published on GOVERNMENT SLAVES on 2020 07 23 by https://www.sott.net/article/438598-Chicago-Mayor-implores-citizens-to-call-911-if-they-see-DHS-do-something-that-doesnt-seem-right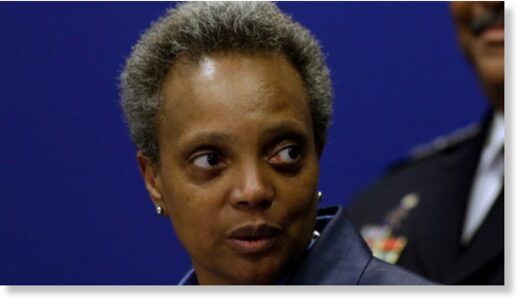 Chicago Mayor Lori Lightfoot encourages citizens to snitch on federal agents if they see something that "doesn't seem right."
Donald Trump announced Wednesday he would send a
of federal law enforcement officers to Chicago to put an end to violence there despite opposition and sharp criticism from the city's mayor, Lori Lightfoot.
Lightfoot
with the President Wednesday night amid accusations from Democrat lawmakers that Trump was utilizing federal police deployments as a campaign tactic.
"The conversation was brief and straightforward," a statement from Lightfoot's office read. "Mayor Lightfoot maintains that all resources will be investigatory in nature and be coordinated through the U.S. Attorney's office. The Mayor has made clear that if there is any deviation from what has been announced, we will pursue all available legal options to protect Chicagoans."
Later Wednesday, in a news briefing to announce the passing of several unrelated measures by the City Council, Lightfoot said Trump "got the message" that federal agents like those deployed to Portland don't belong in Chicago, and she encouraged citizens to report.
"We don't need federal troops. We don't need unnamed, secret federal agents roaming around the streets of Chicago, taking residents without cause and violating their basic constitutional rights,"
"I'm glad that the President got the message."
However, Lightfoot encouraged citizens to call 911 anytime they see DHS do something 'that doesn't seem right', so she can take Trump to court and get DHS out of Chicago.
WIBC host
offered the following observation:
"Maybe it's not the best idea for the mayor to encourage citizens to tie-up emergency lines – intended for life or death situations – to snitch on DHS. Because based on last weekend alone, it would appear as though Chicago needs all emergency lines available to receive calls about shootings."
Subscribe, Like And Share!